Hours
Monday

9:00AM - 7:00PM

Tuesday

9:00AM - 7:00PM

Wednesday

9:00AM - 7:00PM

Thursday

9:00AM - 7:00PM

Friday

9:00AM - 6:00PM

Saturday

9:00AM - 5:00PM

Sunday

Closed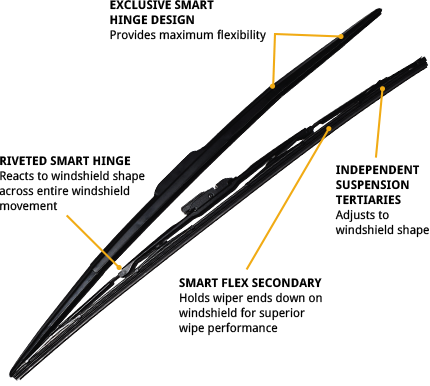 SightLine TM Hybrid Wiper Blades
Clean your windshield as easily as it gets dirty! Sightline wipers are designed to reduce noise and keep your windshield clean, keeping your Toyota a Toyota. Stop down to our Parts and Service Departments to purchase a set and have them installed! 
Have your wiper blades inspected at each maintenance visit. Be sure to ask for SightLineTM Hybrid Wiper Blades. Keep your Toyota a Toyota!
SigntlineTM offers the latest wiper blade technology that has been extensively tested and optimized for exceptional performance.
SightlineTM is precision-engineered with: 
A fluorinated carbon coating on the rubber element that reduces noise and improves wipe quality.
A rigid frame with insert-molded hinges that improve lateral stability.
The fit, function and quality of a Genuine Toyota Part.
Reasons to Replace Your Wiper Blades:
Wiper blade wear can be caused by several factors, including regular use, long subjection to extremes in temperatures, and exposure to the elements and debris. In between your regularly scheduled maintenance, you can monitor the condition of your wiper blades by checking for these signs of wear:
Streaking
Chattering
Smearing
Squaking
Bent Blade Assembly