Steet Toyota of Johnstown is a locally owned, family business that takes pride in our community and local events. We take part in many local events throughout the year to help better our community, improve family and children's lives, educate local residents, and are just a great way to get together and have some fun!
Local Events We Participate in Throughout the Year:
Breast Cancer Awareness: Each October, we donate $25 for EVERY car sold at Steet Toyota Johnstown, whether it's new or used. We donate all proceeds to The American Cancer Society to benefit Breast Cancer Research. We believe that preventative measures are key to saving lives, and are committed to helping find a cure.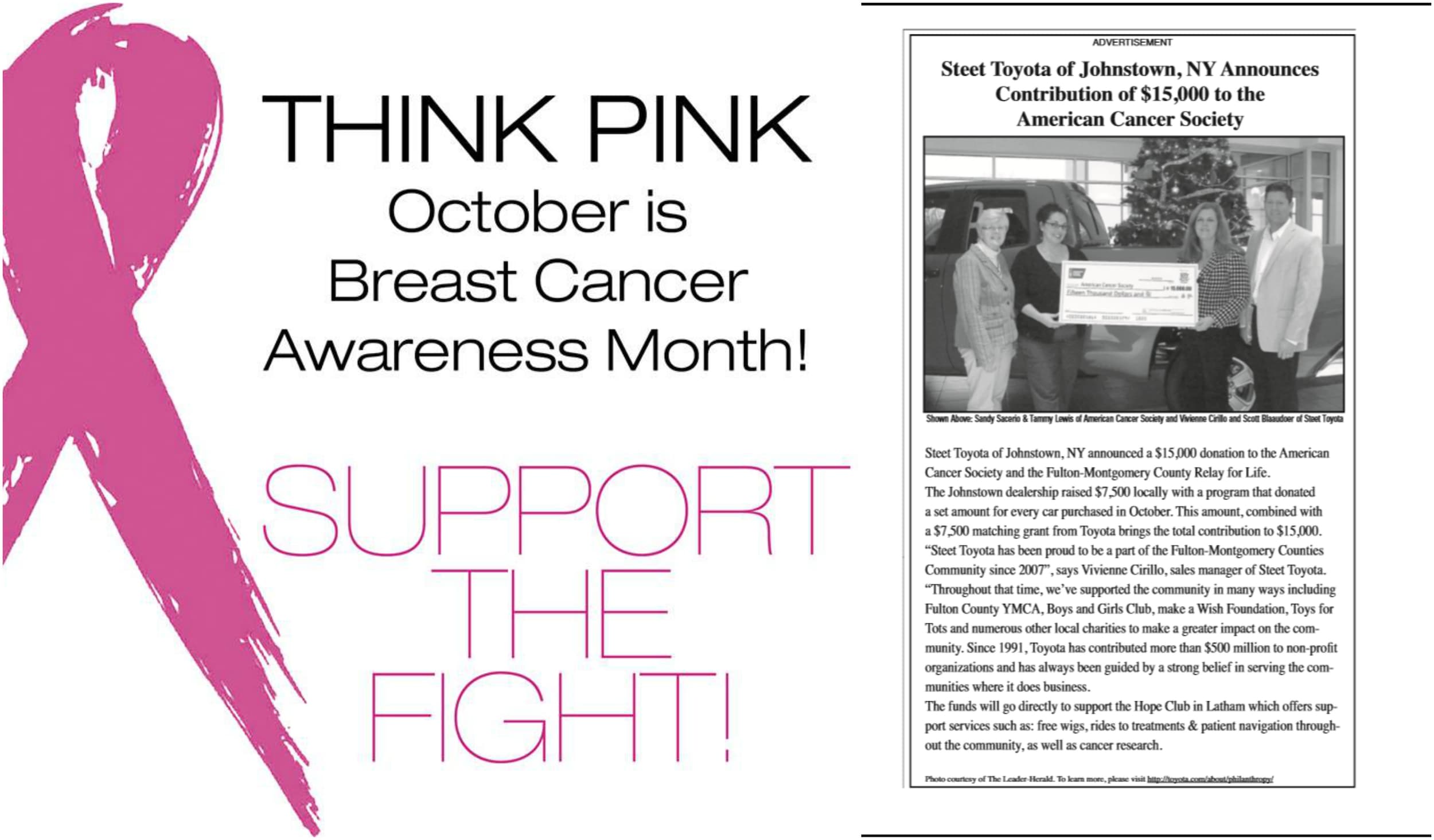 Steet Toyota of Johnstown Annual Thanksgiving Food Drive: Each November, we put drop boxes in our showroom to collect food donations for our Annual Food Drive. The food goes to The Salvation Army of Johnstown-Gloversville to help our community members in need have a wonderful holiday.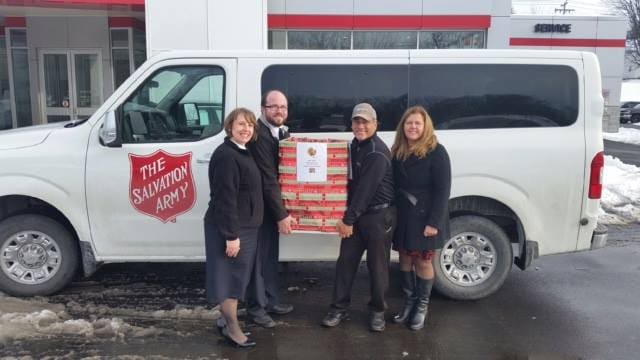 Steet Toyota Johnstown Christmas Gift: Adopt-A-Family: Every Christmas season, we adopt one or two local families in need right here in the Johnstown-Gloversville area. Our owners, Joe Steet and Steve Ponte, believe in paying it forward and giving back to the community that has greatly supported us, which is why we make this their Christmas gift each year. Each employee pitches in, and the grand total is used to purchase food, clothing, and gifts for our local families we've adopted. We truly believe that the best gift to give is one that helps others!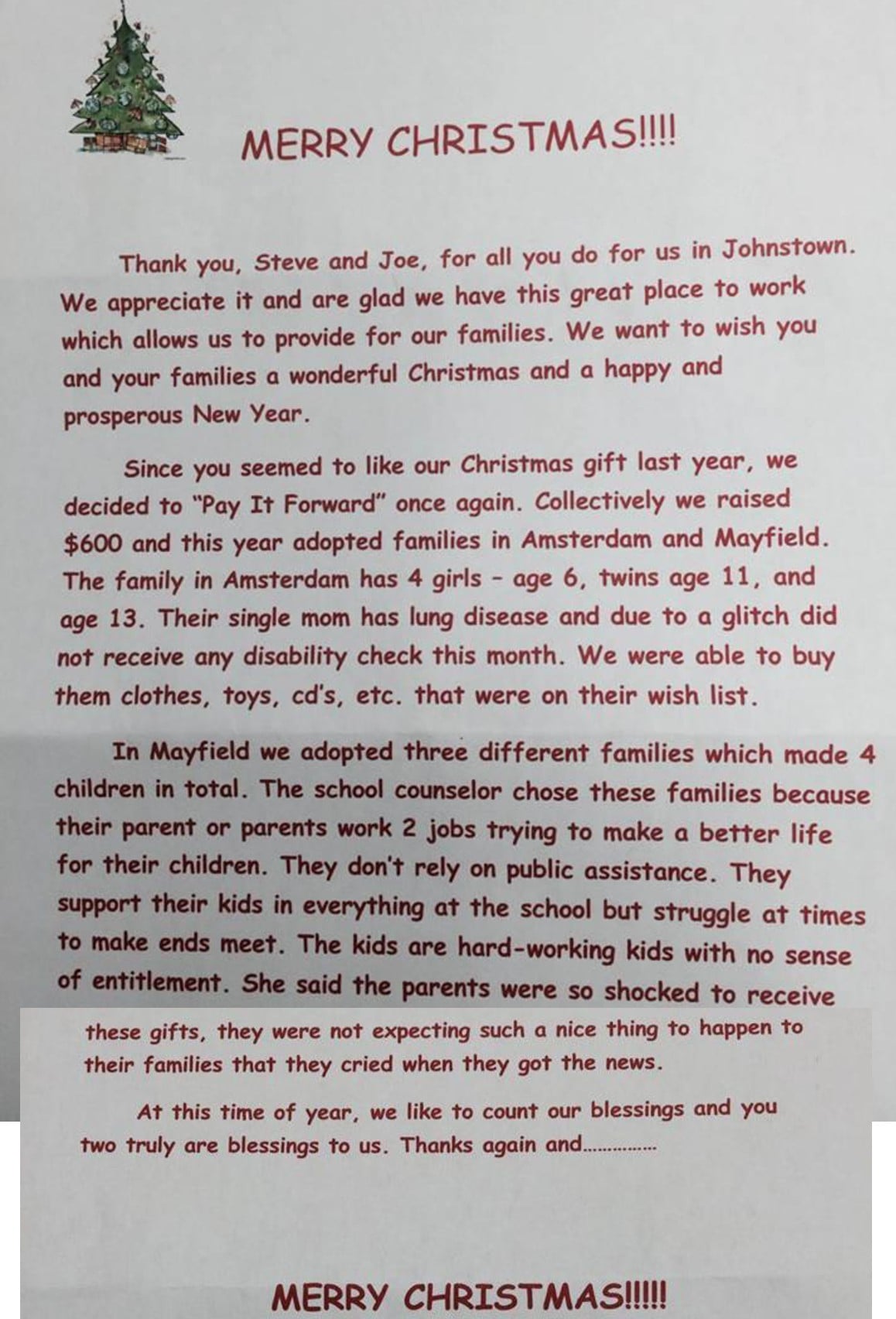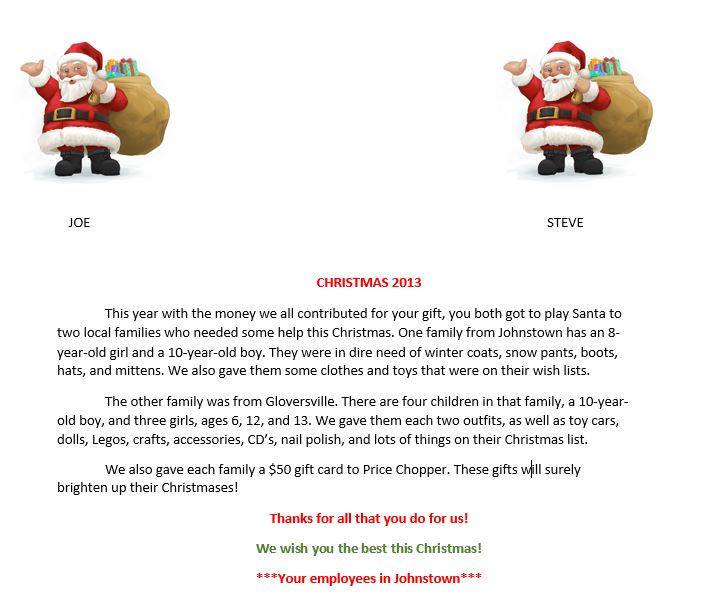 Reader's Choice Awards: Best Auto Dealership in Town! We are grateful to have won the Leader Herald's Reader's Choice Awards for Best Auto Dealership in Town! We have also won Toyota's Tri-State Area "Best in Town" award. Out of 113 dealerships in the New York/New Jersey/Connecticut area, we placed in the Top 10 for Customer Service!! Two great honors for our hometown dealership. We truly value our customers and provide for a no-stress, relaxed atmosphere that makes the car buying and servicing process as fun and enjoyable as possible! Thank you for voting us #1!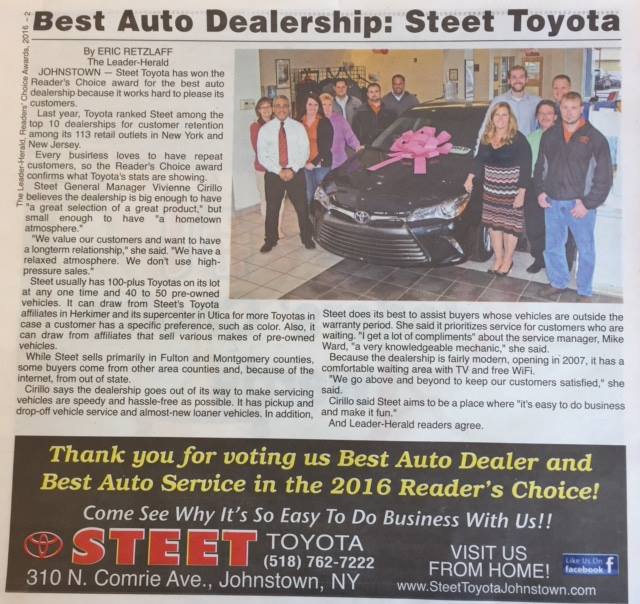 Local Little League Team Sponsorships: Who doesn't love a good baseball game, especially a local one where you can see your kids shine? Each year, we sponsor a local team to promote sportsmanship, team playing, and because, well, we love baseball!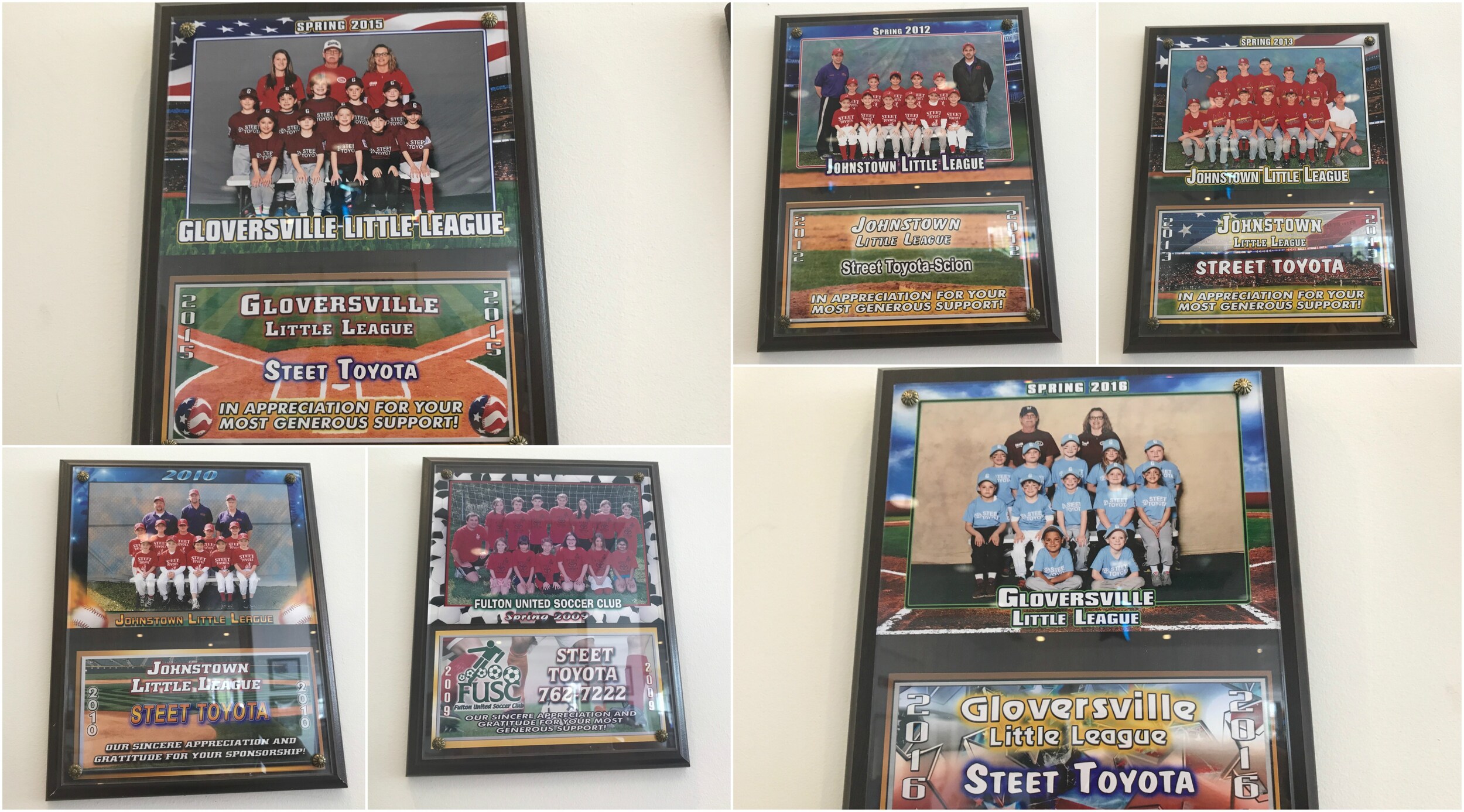 Big Frog 104's Frog Fest & Rodeo: Country Music radio station, Big Frog 104 has held their annual Country Music Festival & Rodeo for the past few years at the Herkimer County Fairgrounds, and, recently, the Utica-Rome Speedway. They draw big names like Montgomery Gentry, Gloriana, Chris Janson, and always give time slots for local bands like Lonesome Dove, The Beadle Brothers, and Tompkins Drive! We support Frog Fest each year by sponsoring the event and raffling off tickets and the grand prize of VIP tickets and seating in our Special Edition Frog Fest Toyota Tundra!

Internal Events
While Steet Toyota of Johnstown loves to participate in community events, we are also fans of spending time with one another to help foster relationships and communication throughout our other stores! Each year we hold internal events and contests to strengthen our bonds!
Halloween Costume Contest: Each year, everyone at our stores are encouraged to dress up for Halloween to have some fun! We hold a costume contest via Facebook: whoever's picture gets the most likes wins prizes! We give out 1st, 2nd, and 3rd prizes for costumes, and each year they get better and better!
Ugly Christmas Sweater Contest & Holiday Party: Each of our stores has a catered, holiday lunch party at the store. We close up shop for a bit, gather for a party and always enjoy catered food from our favorite local restaurants. At our parties, everyone is encouraged to wear their best Ugly Christmas Sweater (or costume.) Like our Halloween contest, pictures are posted on Facebook and the ones with the most likes wins!

Steet Ponte Auto Group Golf Open: we hold our Annual Golf Tournament for employees and local vendors and businesses that we work with regularly at a local golf course each summer! It's a great way to relax on a Sunday and enjoy the good weather. Prizes are given to the winning team, and we have so many raffles that everyone always leaves with some kind of prize!
Steet Ponte Auto Group Paintball Extravaganza: This is a newer event that we rolled out in the Fall of 2016 and we had SUCH a blast that we've decided to hold one in the fall and one in the spring! We hold our tournament at Check Six Paintball in Rome, NY. Each store forms teams and competes against each other for a chance to house the trophy in their showroom! Lunch is provided by a local food truck, and bystanders are encouraged to come watch the show!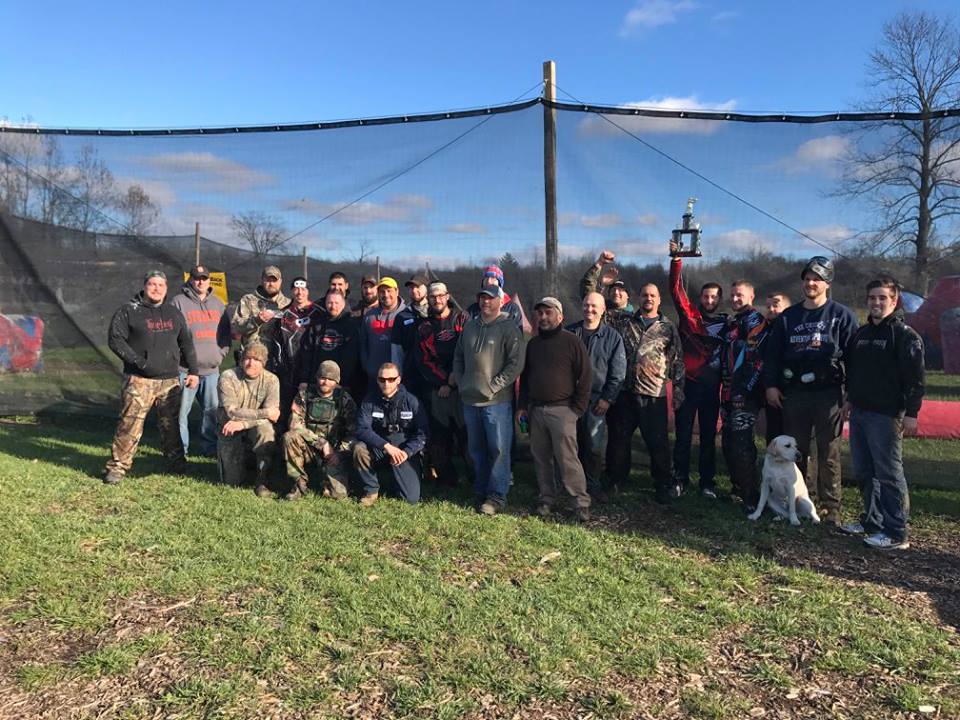 Steet Ponte Auto Group Company Picnic: Our Company Picnic has grown from 50 attendees at Enchanted Forest Water Safari in Old Forge, NY, to over 500 over the course of the years since acquiring multiple different stores. We provide tickets for our employees and their immediate family members, and also provide extra tickets at a discounted rate. We have our own pavilion to leave items in throughout the day, a fantastic lunch is catered by Water Safari, and what better way to spend a summer day in Upstate New York than at Water Safari?!