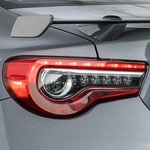 When it comes to sports cars, the first thing that comes to mind might not be the vehicle's interior. However, that just goes to show how the Toyota 86 is differentiating itself from its competition. A sports car attracting all sorts of attention for its various design elements, its interior features are decidedly worth talking about.
The 86 features interior design elements like 6.9 cubic feet of space in the trunk, making a space for cargo that's snug yet expansive. The 86 also makes convenience a priority, with audio control situated directly onto the steering wheel - with this design element, the driver can stay in control while never taking their eyes off the road.
If you want to see the inside of this vehicle firsthand, then come take the 86 out for a test drive here at Steet Toyota of Johnstown. We'd be happy to set you up in the Toyota 86!